– User defined combinations
– Space saving
– Energy saving
– I/O for each channel is individually selectable
– Input sampling period selectable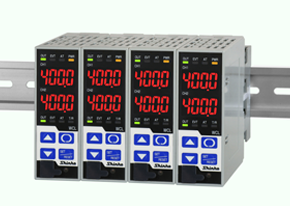 User defined combinations
The following can be selected:
2ch controller spec. PV difference input
PV addition input
Heating/Cooling control output
External setting input
1-input 2-output
Transmission output
Controller+Timer spec. Control timer
Space saving
2ch, but so compact !
Economizes the control panel.
30 x 88 x 110mm (W x H x D, including the socket)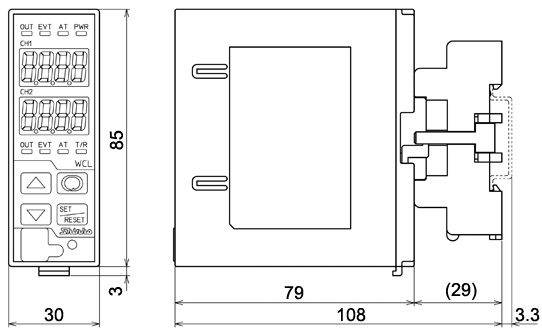 Energy saving
Auto-light function
Display brightness is controlled after measurement from the front light sensor. This saves energy when connecting multiple units.
Display-off function
Displays are turned off when operation does not occur for the time set during Indication time setting. PV, SV or no indication is selectable during Display selection mode by keypad.
I/O for each channel is individually selectable
Input
Individually selectable from thermocouple, RTD, DC current, DC voltage for each channel. Also infrared thermocouples (RD-300 series, RD-401) are usable.
(e.g.) CH1 input: Thermocouple, CH2 input: DC voltage
Output
Selectable from Relay contact, Non-contact voltage and DC current output.
(e.g.) CH1 control output: Relay contact output, CH2 control output: DC current output
Input sampling period selectable
Select from a choice of: 25ms, 125ms, 250ms via keypad.
High accuracy control can be performed by selecting optimal sampling period.